What Flooring Is the Safest for Babies?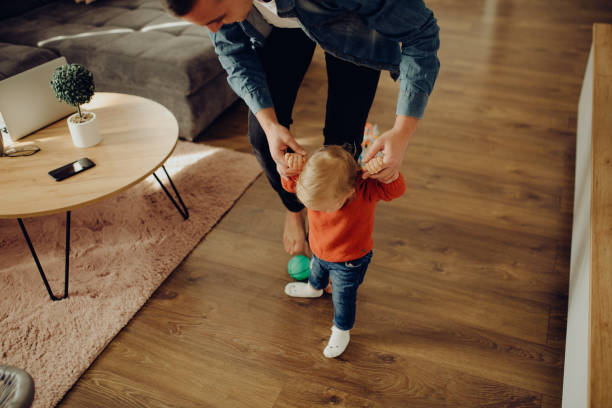 When it comes to the health and safety of babies, nothing is overkill! Our most vulnerable family members depend on us to provide them with an environment where they can safely grow and explore. Every situation is unique; some things to consider regarding flooring include ease of cleaning, resistance to moisture, and budget. While no floor is inherently unsafe provided it is in good condition, there are flooring choices that make more sense than others. Read on for details.
Hardwood is Safe for Babies
If you already have hardwood floors, there is no reason to change them for the baby. Make sure, however, that they are in good condition to avoid splinters or potential injuries. In addition, since hardwood and moisture are not friends, make sure any wet spills are cleaned up straight away. hardwood flooring is safe, but not the ideal flooring for babies.
Carpet is Safe for Babies
Who doesn't love the feel of a nice plush carpet? Carpeting is the best bet for keeping babies safe from bumps and bruises. If your home has carpet, there is no reason to change it! Make sure that it is clean and in good condition to protect your family from allergies from dust and pets. If the carpet is damaged and you cannot change it out before the baby comes, consider an area rug. Affordable and easy to clean or replace, a small rug can cover damage and wear and protect the baby. As always, don't forget to blot and treat spills before they become stains.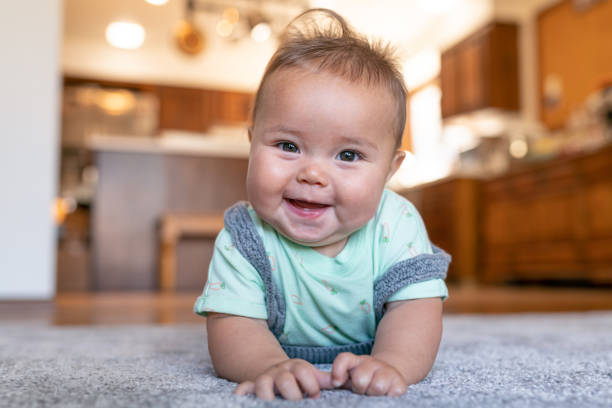 Tile is Safe for Babies
When it comes to clean-ups, tile can't be beat. Wet or dry messes can easily be swept away or wiped up. As long as your tile and grout are not damaged, tile makes a great flooring for babies. Because it is hard and can feel cold, it doesn't provide the best play surface. Choose an area rug or foam play mat to provide a little cushion for the baby, if you have tile.
Luxury Vinyl is Best for Baby
While no flooring is fool-proof, luxury vinyl plank or tile comes the closest. It is warmer than tile, easier to clean than carpet, more user friendly than hardwood, plus it's affordable and easy to install. It provides a safe, low maintenance, virtually waterproof flooring option that won't break the bank. If you are looking for a floor that checks all the boxes, vinyl is an excellent choice. Available in many styles including many varieties of wood, stone and designer tile, vinyl tile would easily fit into any decor. And, since it has a low profile compared to other flooring, it could be installed throughout the entire home, or just in the nursery.
If you need additional help choosing a floor that is best for babies, visit the friendly designers at Kay Riley Flooring and Design. They would be happy to help you with design and installation suggestions to fit your situation and budget.